"Civilizations that get too far from the land are bound to decay." –J.I. Rodale
Hello, my name is Tim Beckman and welcome to my Square Foot Gardening Web Page. I am a Purdue Advanced Master Gardener and have been gardening since about 1988 and gardening in my current plots in Indianapolis, Indiana (USDA Zone 5) since 1994. I hope you enjoy your visit. If you have any questions, please send me an e-mail at the address listed near the bottom of this page.


Current Picture of My Garden (Updated 7/8/2018)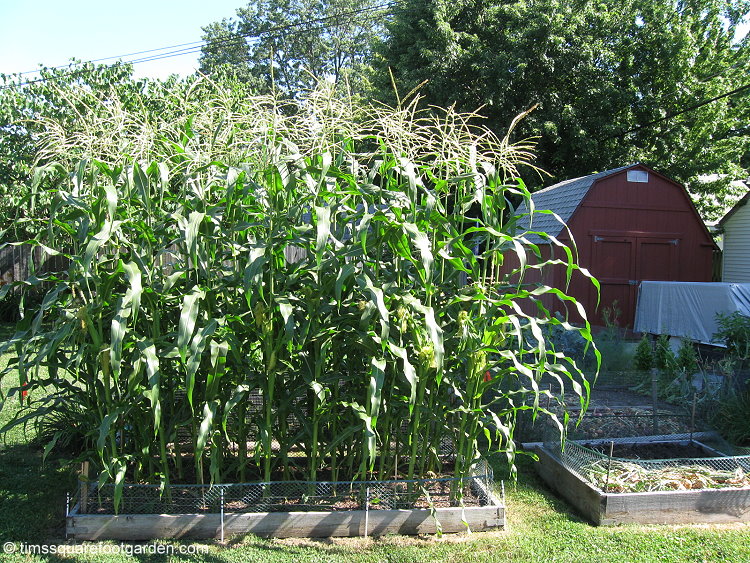 WHAT IS SQUARE FOOT GARDENING?
Square Foot Gardening is a technique of intensive planting developed by a retired civil engineer, Mel Bartholomew, in the 1970's. Mel describes the technique in his book, Square Foot Gardening, as "a system of laying out, planting, and maintaining a productive, attractive garden in any amount of space. The garden is based on a grid of 1-foot by 1-foot squares, with single seeds or plants placed in carefully determined spacings." Mel goes on to say, "The square foot system lets you make the most of your garden space to conserve the amount of water, soil conditioners, and labor needed to produce a maximum amount of food in that space. A square foot garden takes only one-fifth the space and work of a conventional single-row garden to produce the same harvest."
To find out more about Square Foot Gardening, please visit the Official Web Site of Square Foot Gardening and Mel Bartholomew, originator and author by clicking here: http://www.squarefootgardening.com
SQUARE FOOT GARDENING REALLY DOES WORK!!!
I currently raise vegetables in four 8'x 8' plots, one 8'x4' plot, and one 4'x4' plot. I use a slightly modified square foot gardening technique. These plots are situated next to each other in a square pattern with a grass strip between each one. The crops I currently raise include Bush Green Beans, Pole Lima Beans, Broccoli, Brussels Sprouts, Cauliflower, Cabbage, Carrots, Celery, Corn, Cucumbers, Lettuce (probably my favorite), Onions, Peas, Potatoes, Banana Peppers, Green Peppers, Hot Peppers, and Tomatoes. I also grow a few herbs like Greek Oregano, Chives, and Fennel, that are situated in small plots around the main vegetable garden.
Please see the Site Content links below for more information about my square foot garden and the variety of plants I grow.
Site Contents
GARDEN LAYOUT
PLANT LIST
Updated 5-8-2013
TIPS & TRICKS
GARDEN BLOG
Updated 7-8-18
Receive e-mails when my blog is updated! See below for details.

OLD GARDEN JOURNALS
FREQUENTLY ASKED
QUESTIONS
GARDEN VIDEOS
PAST GARDENS
LINKS
BEGINNER'S GUIDE TO VEGETABLE GARDENING



Tim's Square Foot Garden
Like Us on Facebook and Stay Connected
Site Contents

Use the Search Box Below to Search the Web or This Site


Dilbert, a Great Comic Strip For Those Who Work in a Cubicle
and for Those Who Long to Get Out of Them!!


If you think the weather has been bad where you garden, read


about the weather of 1816, The Year There Was No Summer, OUCH!!
If you have any questions about my garden or any comments about this
site, feel free to send me an e-mail at the following address:


Tim Beckman: tim@timssquarefootgarden.com
PRIVACY POLICY AND LEGAL DISCLAIMER
Please visit my other web pages. They have nothing to do with gardening,
but you might lean some interesting history anyways!

THE 42ND INDIANA VOLUNTEER INFANTRY
CAMP MORTON - CIVIL WAR CAMP AND UNION PRISON - INDIANAPOLIS, IN
---
The Current Weather In My Garden
---
All Content © Copyright 2002-2019 Tim's Square Foot Gardening